…of importance in the world,  here you can read how Germans feel about body hair. The intimate kind. "A hairy question." Those Germans sure know how to say it.
Or this – of how a Hollywood man took upskirt pics of Paris. You know, the Hilton-girl. Believe it or not – these are two of the most popular items on Bild today. (Sh*t, I almost forgot about the great debate over which Playboy covergirl is hotter!)
Then there's Jamie, the lost backpacker who might get rich selling his story (that might be a big fat lie). Good for him, I say. Maybe I'll go get lost a few days too, and come back rich.
Oh, oh, oh! Let's not forget the beauuutiful slideshow of "the world's ugliest animal (which appears to be a fish). Faaascinating.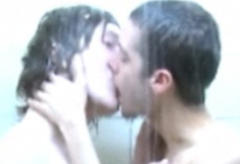 Last, but not least – the world is in uproar. They're showing some kind of gay movie in the subways now.
[ad name="in-post"]
There. Now you have something to read while we all wait for something to happen in the world. Apparently, there's nowthing going on right now more important than the above links.